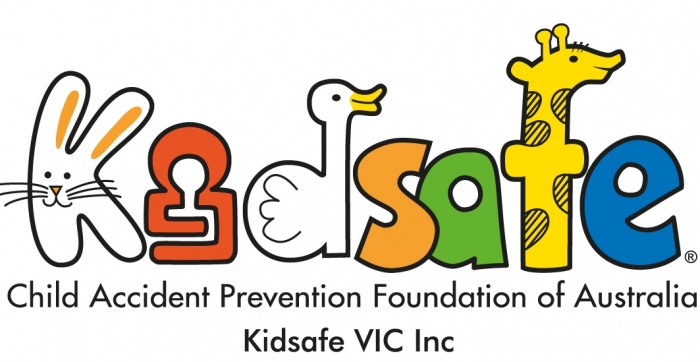 Kidsafe's annual 'Safe Barriers Save Lives' backyard pool safety campaign is aimed towards Victorian backyard swimming pool owners urging them to conduct safety checks on all swimming pool and spa safety fences in the lead up to the summer months. SPASA Victoria is a major sponsor of this campaign.

Drowning is one of the leading causes of death for Australian children under 5 years of age. Robert Caulfield, President of Kidsafe Victoria said, "Studies have shown pool fencing, particularly isolation fencing, to be effective in reducing the risk of drowning. However, evidence suggests that a large number of child drowning incidents occur as a result of pool fencing that is faulty or non-compliant with Australian Standards".Here are some tips for consumers when installing or maintaining a pool or spa fence:
Fences and safety barriers are required for all swimming pools and spas with a depth greater than 30cm – about the length of a school ruler.
You must get a building permit before constructing the fence.
You need to complete the work within six months of starting it.
You should engage a Registered Building Practitioner to do the work if the value exceeds $5000 (including labour and materials).
All gates must have a self-closing, self-latching device regardless of when the pool was built.
Direct access from the door of a house to the pool area is not allowed for new pools and spas.
Indoor swimming pools and spas must have self-closing, self-latching doors that swing away from the pool or spa area.
Fencing must not be installed near trees that children can climb up and over to access the pool or spa, and you should never place objects near pool fencing that children can climb on to get over the fence.
Never prop open any gate providing access to the swimming pool or spa. Mr Hogan said following this tips will help ensure a safer swimming environment for children.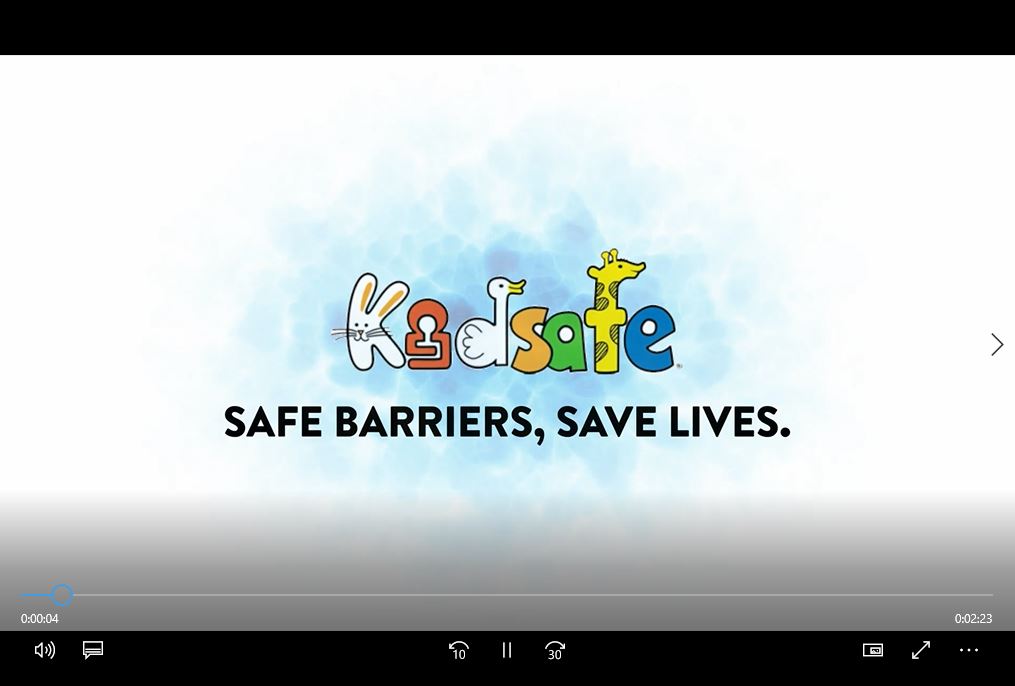 All pool and spa owners are encouraged to utilise the pool and spa area checking tool, developed by Life Saving Victoria. This includes common faults/non-compliance issues such as:
Gates that don't self-latch or self-close.
Climbable objects in the 'non climbable' zone outlined in the Australian Standards (e.g. pot plants, chairs, pool pumps near the pool fencing which could allow a child to climb over the fence).
Excess space under the fence, and;
Misuse (e.g. propping the pool gate open).
Summer is a time to enjoy the outdoors with family and friends. Unfortunately in the past too many children have drowned in backyard pools and spas because there hasn't been fencing or the fencing hasn't be the right type or hasn't been maintained. Fencing that doesn't comply with the Building Regulations could result in the pool or spa owner receiving a significant fine.
RACV's Royal Auto magazine featured this 'Safe Barriers Save Lives' article in the December 2017 edition: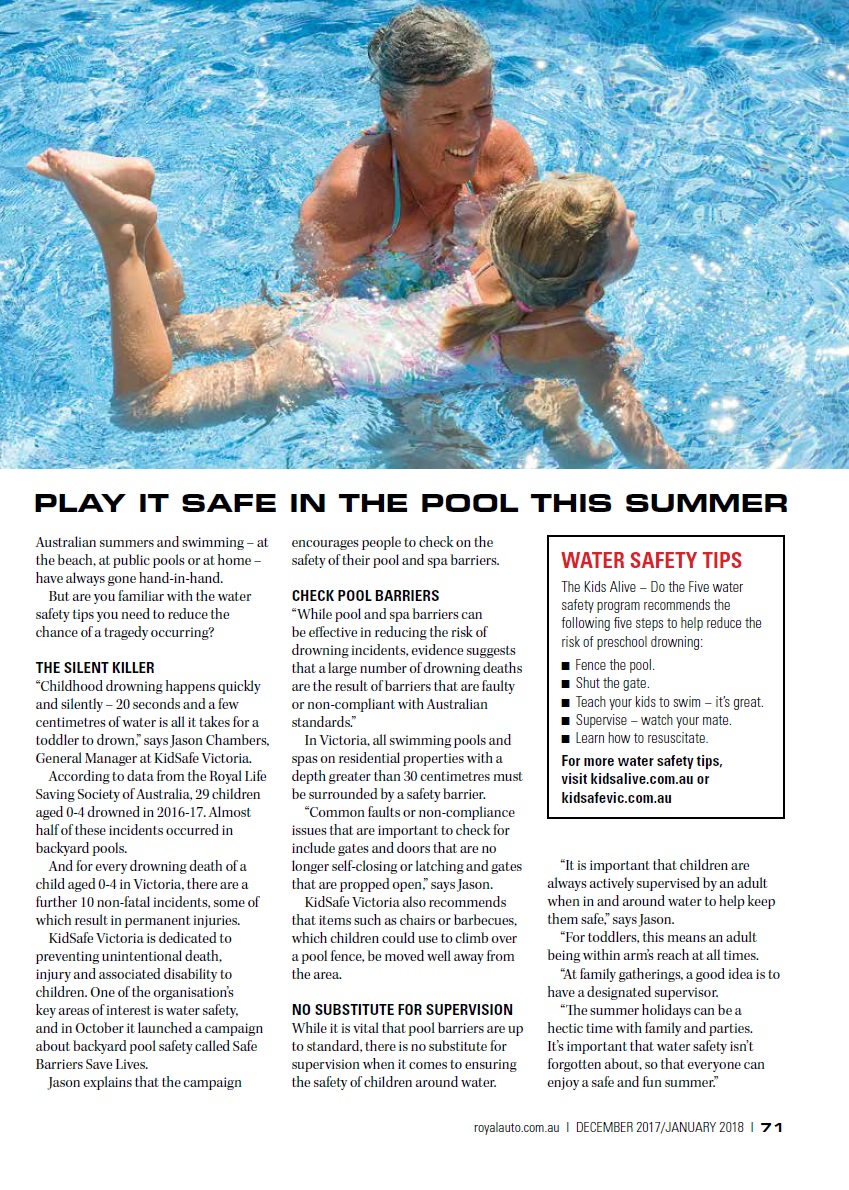 SPASA asks all SPASA Pool Shops & Spa Retailers, as well as Suppliers & Builders with consumer access, to support this important campaign.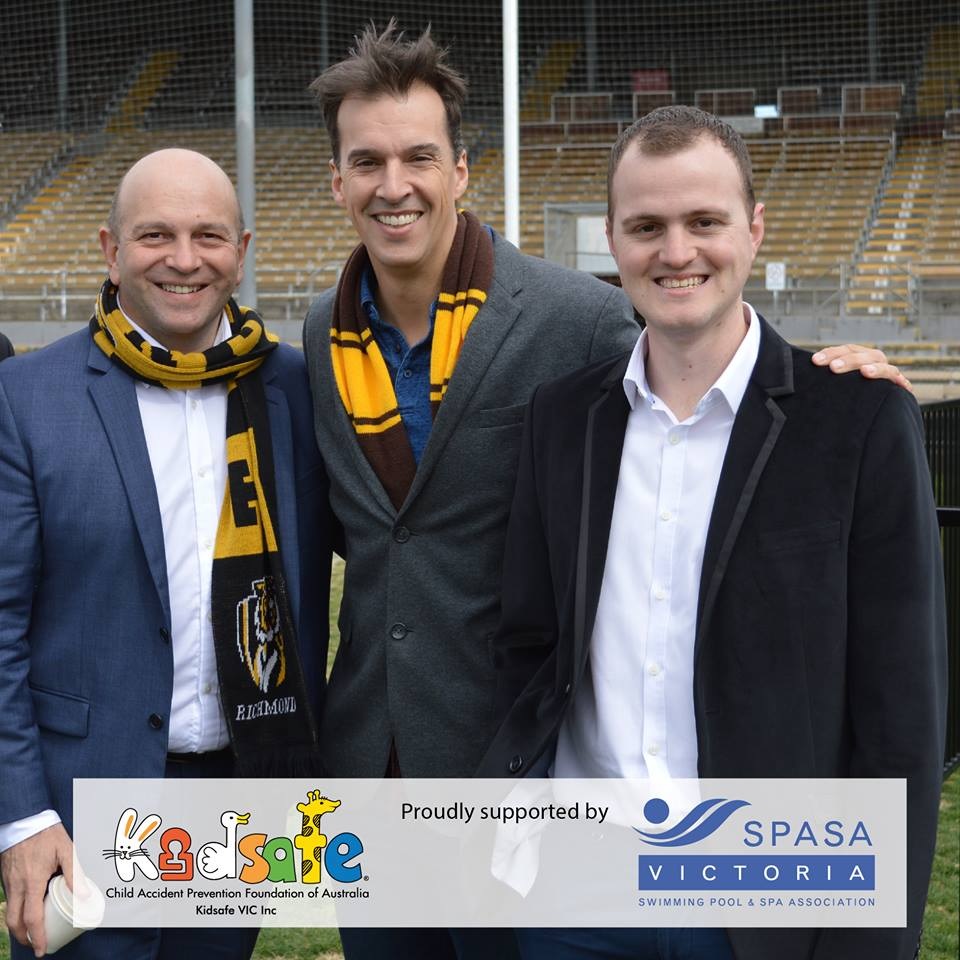 SPASA Victoria CEO Chris Samartzis, Former Olympic Swimmer Matt Welsh and Kidsafe General Manager Jason Chambers at Kidsafe's 2018 Campaign Launch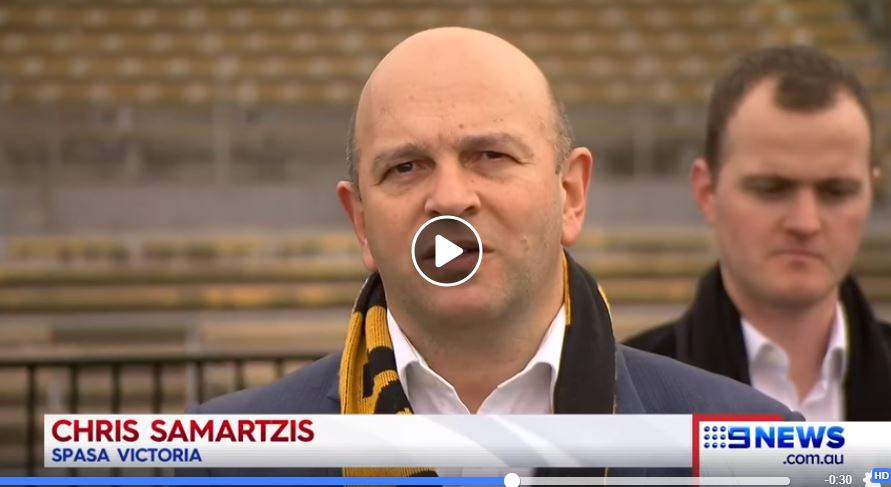 SPASA Victoria CEO Chris Samartzis speaks to Channel 9 at Kidsafe's 'Safe Barriers Save Lives campaign launch in 2018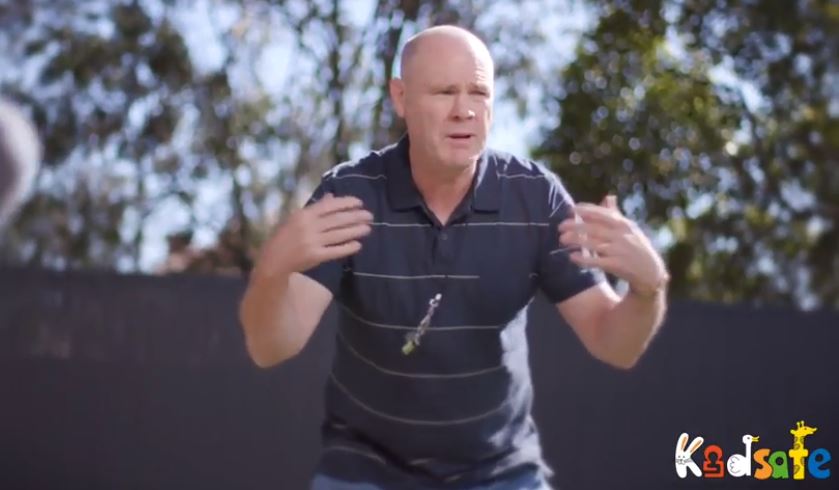 Kidsafe's 2018 'Safe Barriers Save Lives' campaign video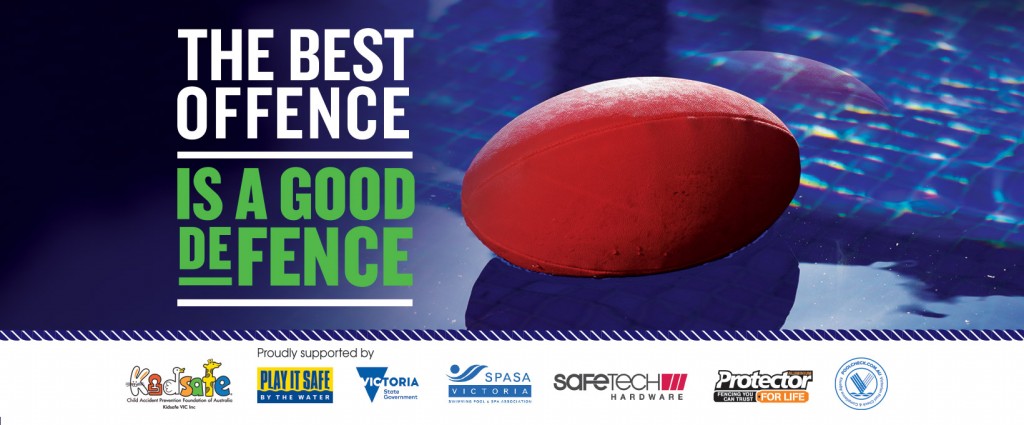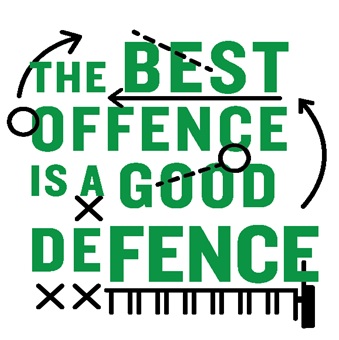 Kidsafe's 'Safe Barriers Save Lives' 2018 campaign logo

2018 Kidsafe 'Safe Barriers Save Lives' Campaign Collaborating Partners