MPBAA Members - The Industry Professionals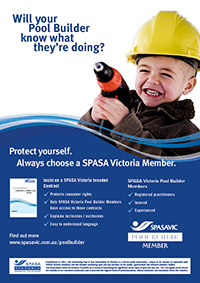 Master Pool Builders Association Australia (Formerly SPASA Victoria) MPBAA has a diverse membership – a member for all occasions. Whether you are looking to construct a new swimming pool or spa, to renovate or maintain your current pool, or to equip your pool with a fence, cover or water tank there is a MPBAA member to assist you.
MPBAA members are at the forefront of the industry in regards to their experience, professionalism and reputation.
Bound by the Association's strict Code of Ethics, all MPBAA members have demonstrated a history of successful ethical trading and knowledge appropriate to their membership category. You should look for the MPBAA member logo to ensure you are dealing with an industry professional – we've taken the hard work out of finding businesses that you can trust with your pool and spa needs.
Should you be about to undertake the exciting journey of building a swimming pool or spa, we recommend you carefully read the following information, including the 'Three Questions You Should Ask'.
The First Question You Should Ask:
"Are You A Registered Building Practitioner?"
WHY USE A REGISTERED BUILDING PRACTITIONER?
Every building project, no matter how big or small, carries some sort of risk. By using a Registered Building Practitioner you are engaging a qualified, knowledgeable and experienced professional.
If you are building a swimming pool or spa valued over $10,000, the first question you should always ask your builder is: "Are you a Registered Building Practitioner, and can I have your licence number?".
If you engage a Registered Building Practitioner or use subcontractors to undertake the work, by law they must provide you with a major domestic building contract for work over $10,000. For work over $16,000 they must also provide domestic building insurance - do not proceed if you have not been provided with a copy of the insurance certificate.
It is an offence for an unregistered builder to carry out building work on a swimming pool or spa where the contract is over $10,000.
You can check if your builder is registered by calling the Victorian Building Authority on 1300 360 320 or use the 'For Consumers' menu of the e-Toolbox at www.vba.vic.gov.au
The Second Question You Should Ask:
"Are you a MPBAA Pool Builder Member?"
WHY USE A MPBAA POOL BUILDER MEMBER?
Installing a new pool or spa is an exciting adventure. From the moment you seriously start looking to the day your new pool or spa is filled with water, you can expect to live with a growing sense of pleasant anticipation. If everything goes right for you, you'll end up with exactly what you envisioned, a sparkling pool or bubbling spa. But if things don't go right, your dreams may turn into a nightmare. You may be faced with disappointment and unexpected expense.

The best way to avoid it happening to you is to deal with a Pool Builder Member of the Master Pool Builders Association Australia
They can be easily identified as they all proudly display this logo:
All MPBAA Pool Builder Members can be found using our Find A MPBAA Member search tool.
Installing a pool or spa involves a number of specialised trades and techniques, all of which need to be perfectly coordinated. It's not just a matter of digging a hole and pouring concrete or dropping in a fibreglass shell.
There are engineering drawings to be produced, laws and regulations to abide by, permits to be obtained, notices to build, liaison with the water authorities, tree removal and various pieces of equipment to be matched into a system that will deliver all the convenience, safety and comfort you want.
For these reasons, it pays to make sure the builder, installer or service organisation you choose is qualified and experienced in pool and spa installation or pool renovations.
MPBAA Pool Builder Members are pool builders with appropriate experience, practitioner registration and insurances. Bound by the Association's Code of Ethics, MPBAA Pool Builder Members are obliged to perform all work in accordance with Australian Standards, and to meet all legal requirements.
As part of the application process, MPBAA Pool Builder Members are vetted throughout the industry as to reputation and professionalism. They are also required to demonstrate exemplary trade and consumer references.
MPBAA Pool Builder Members also have access to the latest technical training, educational programs and industry-specific information to ensure their work is performed with technical excellence.
The Third Question You Should Ask:
"Do you use a MPBAA Pool Construction Contract?"
WHY USE A MPBAA CONTRACT?

Many contracts can be confusing, or in the case of unregistered pool builders, you may even find there is no contract. Only MPBAA Pool Builder Members can issue you with a MPBAA Contract – a consumer friendly and easy to understand contract for the construction of your swimming pool or spa.
The MPBAA Contract is tailored for pool and spa construction and provides the latest consumer protection.
A Total Service
Pool Builder Members of MPBAA pride themselves in offering a total service. This begins with discussion regarding your needs, through to advice on the type of filter, water sanitising and ongoing maintenance programs to suit your budget. MPBAA Pool Builder Members will obtain the necessary permits, undertake the complete construction, fill the pool and correctly balance the water in it.
A growing demand on pool builders for assistance in landscaping and lighting has led to them acquiring considerable design and construction skills in these allied areas. Many intending owners find it convenient to leave everything to their pool builder. Discuss your needs with a MPBAA Pool Builder Member.
Standards and Regulations
A condition of membership is that MPBAA Pool Builders Members must adhere to ever-changing pool building standards published by the Standards Association of Australia and the Building Code of Australia – your assurance of the use of quality materials, workmanship and safety.
Your Handover Book
When your pool is completed your MPBAA Pool Builder Member presents you with a "Guide for Pool Owners". This contains useful information regarding the upkeep of your pool and your copy of a signed Handover Certificate which is your record of your pool and its specifications.
After Handover
As mentioned, MPBAA has a diverse membership including businesses with suitable experience to assist you in maintaining your investment in optimal condition after construction. You can find a list of MPBAA Pool Shop and Pool Service members in your Handover Book or on the MPBAA website here.
Consumer information on how to resolve building issues can be found HERE
New Online Building Tool for Consumers
Victorians planning to build or renovate now have access to online government-produced building and renovating information.
On 24 October 2016, the Victorian Government launched the Building Tool, a new online domestic building tool which streamlines access to building and renovating information to help people make informed decisions, understand their legal rights and obligations, and resolve issues such as defects or delays.
Users will be required to answer questions about their building needs, which the online tool will use to direct them to appropriate information on the Consumer Affairs Victoria (CAV), Victorian Building Authority (VBA) and Victorian Managed Insurance Authority (VMIA) websites. Please note that the opportunity for builders to obtain insurance has been expanded outside the VMIA. When checking if your builder has insurance, please keep this in mind and contact MPBAA should you be unable to find your specific builder's details via the online tool.
Topics include builder registration, contracts, insurance, plans and permits, information for owner-builders and advice on resolving problems. This online tool is a Victorian Government initiative designed to make the building process easier to understand. The Building Tool can be found at building.vic.gov.au
And Finally
It's worth remembering a pool or spa is a major investment. You want it to go right. It should go right. It can go right. The best way to protect your investment right from the start is to choose a MPBAA Pool Builder Member - it's the best insurance you can have. Further information to assist you in your decision making can be found on our Fact Sheets pages.
Master Pool Builders Association Australia
Head Office
Building 10, 270 Ferntree Gully Road
Notting Hill VIC 3168
Tel: (03) 8526 7771
Email: This email address is being protected from spambots. You need JavaScript enabled to view it.