SPASA Puts Pool Safety First
For over a decade, the Swimming Pool & Spa Association of Victoria (SPASA) has advocated for mandatory pool and spa barrier inspections in Victoria.
Today, SPASA Victoria - along with other leading industry stakeholders - celebrate the State Government's decision to implement a mandatory barrier inspection program in Victoria.
SPASA's lobbying over the years, throughout successive State governments, came close a number of times to enshrining a mandatory barrier inspection regime in Victorian law, but it wasn't until the sun-setting of the Building Regulations in 2017 that saw the Government actively seek the advice of industry stakeholders and finally accept their recommendation – to implement a mandatory pool and spa barrier inspection program in Victoria.
The recommendations made by SPASA Victoria, as well as other industry stakeholders, was based on thorough research and evidence that pool and spa owners were not adequately maintaining their barriers, and that this overwhelming non-compliance was detrimentally affecting toddler drowning rates – both fatal and non-fatal.
SPASA's argument for mandatory pool and spa barrier inspections was based on critical evidence from Western Australia, showing that since the introduction of mandatory barrier inspections in 1992, there has been an 80% reduction in the rate of toddler drownings in that State. This fact, coupled with on-going reports of Victorian pools and spas failing compliance checks, underlined the obvious solution of regular pool barrier checks.
SPASA's collective campaigning included numerous media releases, television and radio appearances and interviews, stakeholder meetings and gatherings – as well as public outcry as to why little was being done by the Government to prevent toddler drownings in Victoria each year. These views culminated in an historic stakeholder letter to Government demanding that a mandatory barrier inspection program be brought into legislation in Victoria.
In May 2017, SPASA - along with many other industry stakeholders – was dismayed at the Government's announcement of proposed legislation requiring pool and spa owners to comply 'retrospectively' with safety barrier laws, potentially forcing thousands of people to endure the inconvenience and expense of re-fencing their pool and/or spa areas to a four-sided isolation barrier configuration. This proposal ignored years of evidence-based campaigning and came with no guaranteed improved safety outcomes.
Subsequently – throughout a three month public consultation period provided by the Government – SPASA again took the lead and heavy campaigning began again in earnest, with the end result being an announcement by the State Government on 6 April 2018 to implement a mandatory barrier inspection program in Victoria and a retraction of the proposal to comply with retrospective barrier legislation. Additional to this was the promise of a mandatory State-wide pool and spa register to be held by all councils and shires, as well as a new registration class for inspectors, and a new stand-alone barrier inspectors training course.
For information regarding Pool and Spa Barrier inspector training courses, contact the Victorian Building Authority (VBA) on 1300 815 127 or www.vba.vic.gov.au
Industry First Stakeholder Collaboration
Advocates Demand Regular Pool Fence Checks

The Swimming Pool & Spa Association of Victoria (SPASA) has led a collaboration of key stakeholders to deliver a letter to Planning Minister Richard Wynne demanding 3-yearly Mandatory Barrier Inspections in Victoria.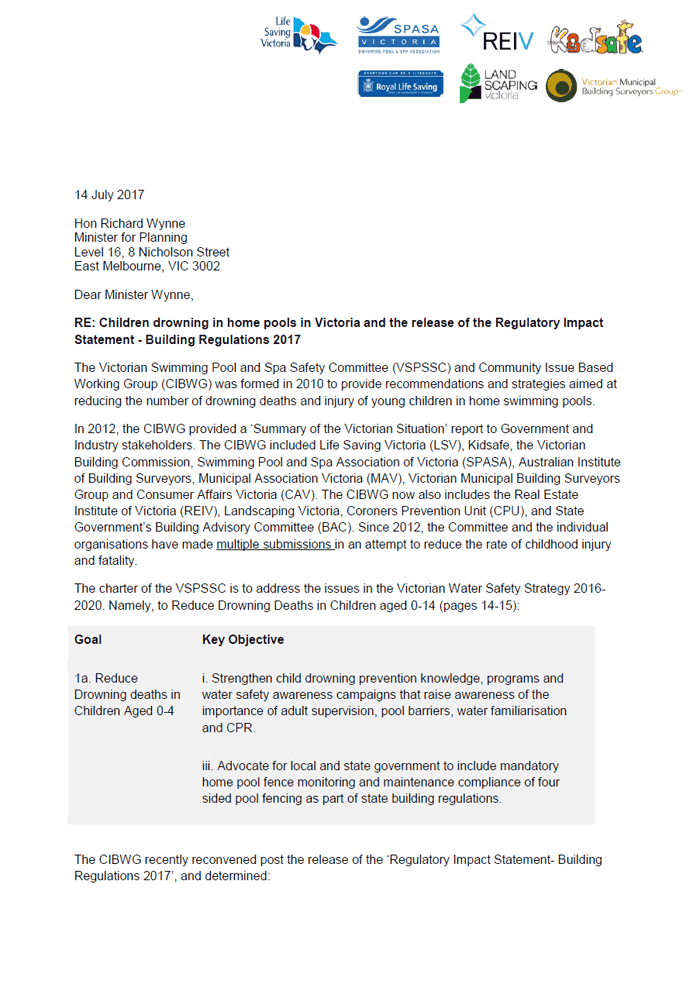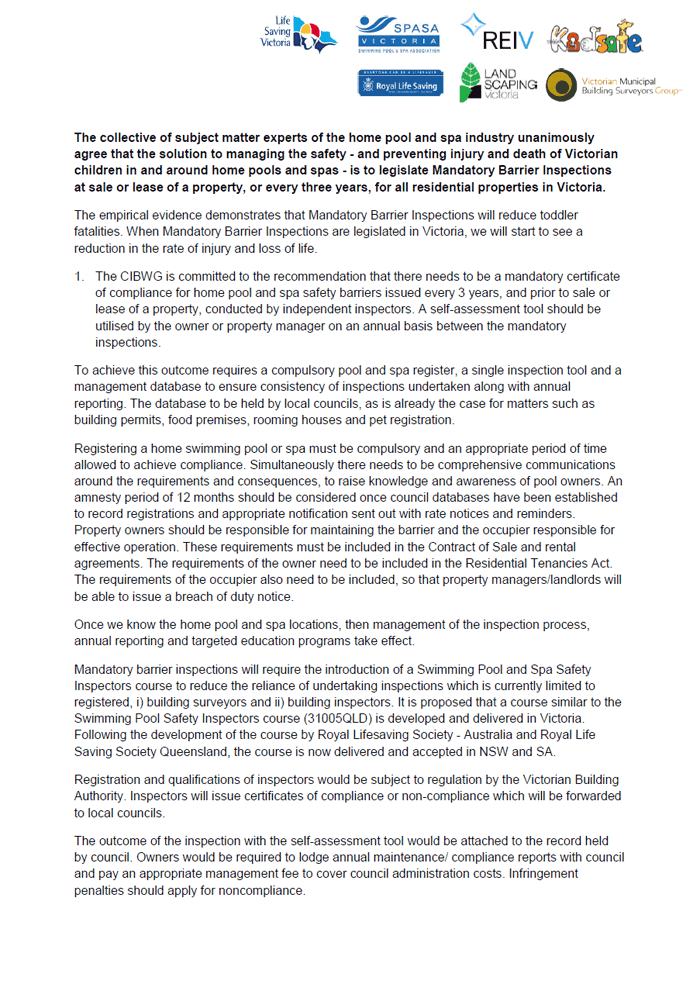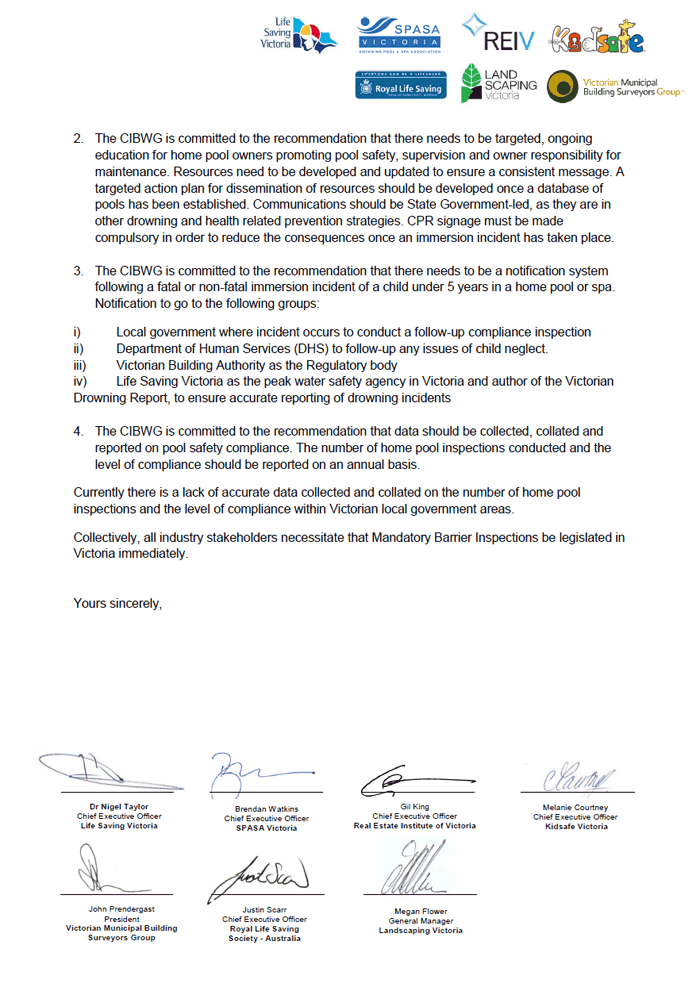 SPASA's Campaigning (2007 - 2017)
SPASA Victoria is strongly of the view that inspections of pool and spa barriers should be mandatory in Victoria in order to improve safety outcomes.
We implore the Victorian Government to pass legislation to:
1. Immediately make pool barrier compliance certification mandatory for all properties sold or leased in Victoria
2. Introduce a mandatory barrier inspection protocol that ensures all residential properties with a pool or spa in Victoria are inspected every three years
Swimming pools are wonderful additions to the lifestyle of any Australian home. Exercise, and the social capital provided by a pool or spa, is immeasurable. With the current childhood obesity epidemic, the health and fitness benefits to Australian children are undeniable. SPASA Victoria wants to promote the safest possible outcomes of pool and spa use for our children.
Our members see backyard pools seven days a week and the majority have not been maintained and are not safe. Between 2004 and 2015, Victoria lost 25 children in backyard pool drowning fatalities. Recent media coverage regarding barrier inspection failures by local Councils underlines this fact. Knox Council recently inspected 100 backyard pools and found the 'vast majority' did not comply with State Government standards. Legislating mandatory pool barrier inspections will keep our kids safe.
Pool and spa barrier inspections are currently mandatory in three states - NSW, QLD and WA. Since the introduction of mandatory inspections in WA in 1992, there has been an 80% reduction in the rate of toddler drownings*. This Western Australia data proves that mandatory barrier inspection legislation works.
Summary of the Facts
- The Victorian government's solution to toddler drowning is to introduce a retrospective 4-sided barrier regime for all pools & spas
- The majority of toddlers who have died in Victorian pools in the past 15 years have died in pools with 4-sided barriers
- Western Australia has had Mandatory Barrier Inspections (MBI) of private pools since 1992 & have reduced their rate of toddler fatalities by 80%
- Yet our State government is not considering MBIs
- Multiple Victorian Coroners, the World Health Organisation, Lifesaving Victoria, Kidsafe, Real Estate Institute of Victoria, Victorian Municipal Building Surveyors Group, Landscaping Victoria, Royal Life Saving & SPASA all endorse Mandatory Barrier Inspections
- Multiple reports from Victorian Councils show the average fail-rate of pool barriers in Victoria is 80%+
- The fundamental problem in Victoria is clearly a lack of ongoing pool barrier maintenance
- In the past 15 years, Victoria has had 22 toddler drownings in backyard pools. On average, for every fatality, there are around 6 non-fatal drownings. Most of those toddlers have ongoing brain injury. Total: 22 dead plus 60+ with permanent mental impairment
*8.7 deaths per 100,000 people in 1992 down to 1.66 deaths per 100,000 people in 2016 (Source: Royal Life Saving Society WA Inc)
Campaign Endorsements
Life Saving Victoria warns that 'new pool barrier laws alone are unlikely to prevent backyard pool drowning' and that 'unless supportive legislation is introduced to encourage pool and spa barrier compliance and maintenance, it is unlikely that the changes would make a significant difference to the drowning toll'.
Kidsafe Victoria supports our call for the introduction of mandatory pool and spa barrier inspections in Victoria. "The recent statistics from Knox Council highlights the need to have a co-ordinated, State-wide system in place where pool and spa barriers are regularly inspected," said Jason Chambers, Kidsafe Victoria General Manager.
Former CEO of Aquatics and Recreation Victoria, Anthony McIntosh says, "Victoria's aquatics and recreation industry is very supportive of SPASA's proposed measures, which will unquestionably prevent fatal and non-fatal drownings every year. For pool owners with existing pool barriers, to have the discipline to maintain these to a safe standard over the life of the pool will make an enormous difference to the safety of the pool - week in, week out."
Grant Symes, General Manager of Protector Aluminium Fencing, fully supports SPASA Victoria's initiative to legislate mandatory pool and spa barrier inspections. "Drowning is the greatest cause of accidental death of children under five in Australia. We need to react accordingly. The recent survey conducted by Leader newspaper paints a dire and very serious situation. This legislation would be a great step towards drowning prevention," Mr Symes said.
Brett Fitzmaurice of Pool Safe Inspections Victoria says, "As a Registered Building Inspector with 20 years of professional experience, I have conducted over 2000 pool barrier inspections. The high rate of barrier non-compliance that I have encountered leads me to believe that Victoria's existing pool barriers are neither safe nor compliant. I have witnessed that leaving the responsibility of maintenance requirements up to home owners is not working. I am disturbed by the continual fail rates that I find on my pool audits and urge change to reflect what other states in Australia are doing. The lack of ongoing barrier maintenance is why we continue to have toddler drownings. My company, Pool Safe Inspections Victoria, has conducted 423 pool audits in the last 2 years, of which 422 have failed on first inspection due to a lack of maintenance. Swimming pools and spas constructed between 8 April 1991 and 30 April 2010 in most cases have a four-sided barrier complying with the current Australian Standard. These barriers simply require maintenance. Legislating barrier upgrades retrospectively is going to be extremely costly. In many situations this will not be possible. But then the issue of barrier maintenance will still remain. Statistical evidence from Western Australia has shown that routine inspections over the last 15 years has reduced the number of drownings by 83%. Building inspection audits by Councils show an average failure rate of 98% in Victoria. In my opinion, legislating Mandatory Barrier Inspections in Victoria will reduce the number of both fatal and non-fatal drownings."
Commissioner Cheryl Vardon wrote in the Queensland Family and Child commission report that "Again this year, not one child drowned in a private swimming pool where the pool gate was properly latched and the fencing compliant. The regulation of pool fencing is truly a life-saver, and emphasises that we need to be vigilant every day about maintaining the fence, keeping climbable items away and, most importantly, keeping the gate securely closed."