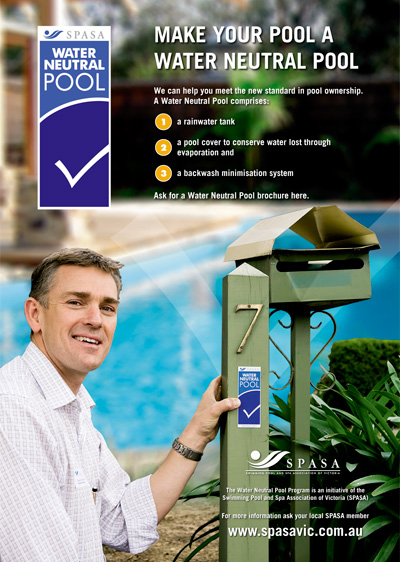 INTRODUCTION: Master Pool Builder Association Australia has embarked on a significant sustainability campaign to guarantee a long-term future for pools & spas in Victoria.
Our strategy involves the Water Neutral Pool program, communications on responsible water/energy use and a pool-water donation program.
Pools and spas add significant social value to our communities and are an iconic feature of the Australian way of life. We are seeing ever-growing numbers of pool & spa owners adopting 'water-wise' behaviour by installing pool covers, top-up water tanks, water reducing filters, etc.
There are many steps pool & spa owners can take to preserve our most precious resource. Please take the time to review the below information and that contained in our Pool & Spa Book.
ACTIVITIES
---
The Water Neutral Pool program
SPASA Victoria (now MPBAA) launched the Water Neutral Pool program in 2008. A Water Neutral Pool is one that creates a new standard for swimming pools, it utilises both water saving and water harvesting devices to ensure that it is water-wise.
Purchasing a new pool that is Water Neutral, or retro-fitting an existing pool, will generate real cost savings through reduced chemical, water and energy use. MPBAA strongly encourages all Victorian pool-owners to adopt this new standard.
Find out more about MPBAAs Water Neutral Pool program. Read about the WNP program launch media release
MPBAA receives National industry recognition
"Now for the Good News - Pools Can Save You Water" Click the link for coverage of the Water Neutral Pool program in leading industry magazine SPLASH!
Drought-Proof Pools
"How swimming pool owners & manufacturers are thriving despite severe water restrictions... pool owners are embracing a sustainable approach to the lifestyle they love." View "The Age" article
The savewater! Alliance
The savewater!® Alliance works with water businesses, government agencies and product companies to deliver water conservation programs throughout Australia. savewater!® offers a combination of web resources and practical programs to help all Australians change the way they use water. Read more.