An initiative of the Swimming Pool & Spa Association of Victoria (now MPBAA) and supported by the greater metropolitan water retailers.

1. What is a Water Neutral Pool?
A Water Neutral Pool is a swimming pool that maintains the volume of water in the pool by minimising water loss and reducing energy and chemical use.
A Water Neutral Pool utilises both water-saving and water-harvesting devices to ensure that it is 'water-wise' by minimising water use.
Owning a Water Neutral Pool not only saves water, but reduces on-going costs through reduced chemical, energy and water use.
Water Neutral Pools are an environmental and sustainable initiative of the Master Pool Builders Association Australia (Formerly Swimming Pool & Spa Association of Victoria SPASAVIC).
MPBAA encourages all pool owners to conserve water by installing a Water Neutral Pool, or retrofit an existing pool, to ensure that it meets this new standard.
A Water Neutral Pool delivers a range of benefits including:
Reduced water use – delivering water savings, energy savings and cost savings while reducing the impost on mains water
Reduced chemical use – cuts pool maintenance costs
Water collection at site – another way of saving water and money by storing water and diverting it for use in laundries and toilets, and on gardens.
Enhanced property value, and
Demonstration of the pool owner's responsible attitude to water conservation.
The Water Neutral Pool program is designed using the Bureau of Meteorology rainfall figures and evaporation rates to assess the effectiveness of a range of water-saving devices and techniques.
2. What are the Essential Features of a Water Neutral Pool?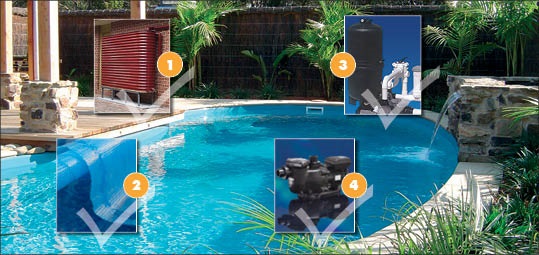 A Water Neutral Pool must, at a minimum, have the following features:
Water tank, to collect rainfall to top-up the pool as needed
Pool cover, to conserve 90% of water lost through evaporation
Backwash minimisation system, to prevent excessive backwashing (e.g. cartridge filter, oversized sand filter, centrifugal / pre-filter device, backwash recycle system, etc)
Energy Efficient Equipment
There are a range of other positive options that pool owners can take to maintain a 'water-wise' pool, including:
Installing shade sails and wind covers to help prevent evaporation
Ensure the pool has suitable overhanging pavers or decking to keep splash-out to a minimum
Never over-fill a pool
Keeping your pool's water in the correct condition or "balanced" to avoid emptying polluted water
Check pipes and drains each year to ensure there are no leaks
Keeping pets out of the pool
Discouraging rough play and unnecessary splashing by pool users.
3. Is there Evidence Water Neutral Pools Save Water?
Analysis shows a Water Neutral Pool can save thousands of litres of water every year. Over a 12 month period, pool owners with an adequate sized rain tank, who conscientiously use a pool blanket (physical or chemical) and a backwash minimisation system, will not need to use mains water to top-up their pool.
This has been tested using two scenarios: average rainfall in Melbourne over a 30 year period (1971–2000) and average rainfall in the past 10 years (1997-2007) that have been affected by climate change and drought.
The results show for both examples there is excess water in the rainwater tank that can be used for other purposes around the home over the 12 month period.
4. How Much Water Can be Saved?
The tables below show how much water can be saved annually by a Water Neutral Pool. The data is based on an 8 x 3.5 metre, 40,000 litre capacity pool and compares (note: calculations are based on use of pool cover 50% of the time):
A. A non-Water Neutral Pool
B. A Water Neutral Pool over a 30 year period (1971-2000) based on average rainfall and evaporation rates
C. A Water Neutral Pool over a 10 year period (1997-2007) based on average rainfall and evaporation rates during this time of drought and climate change
| | | | | | | | | |
| --- | --- | --- | --- | --- | --- | --- | --- | --- |
| | Rainfall into pool | Rainfall into water tank (based on 50m roof) | Loss to water tank diverter | Water gained | Loss through evaporation | Backwash loss | Total water loss | Surplus water |
| A | 18,329 | N/A | N/A | N/A | 34,124 | 5,724 | 39,848 | -21,519 |
| B | 18,329 | 32,730 | 8,700 | 42,359 | 17,062 | 2,862 | 19,924 | 22,435 |
| C | 12,555 | 22,420 | 8,700 | 26,275 | 17,062 | 2,862 | 19,924 | 6,351 |
This data shows:
• that even during a time of drought, a Water Neutral Pool provides 6,351 surplus litres of water that can be used by the pool owner in their garden, laundry or toilet
• the importance simple devices such as water tanks and pool covers can play
• that a mix of devices produces the best water conservation outcomes.
• that having a Water Neutral Pool is easy and achievable and delivers real water savings benefiting the whole community.
5. What Size Tank do I Need?
SPASA has established standard minimum tank sizes to achieve optimum water savings:
20,000 litre pool = 2,500 litre water tank
40,000 litre pool = 4,000 litre water tank
60,000 litre pool = 5,000 litre water tank
6. What Calculations Have Been Carried Out to Prove the Concept?
To calculate water collection capacity, Bureau of Meteorology average rainfall data was used to determine the amount of water a pool could capture as well as how much run-off a 50 square metre roof would send to a water tank.
To calculate water loss, Bureau of Meteorology evaporation rates based on a pool's surface area, backwash loss from the filter and the diverter were used. The diverter is connected to the water tank and stops pollutants from the catchment area entering the tank, losing some water in the process.
The experience of SPASA members was used to determine the amount of water used in an average swimming pool.
7. Where is a Water Neutral Pool Available & How Will Owners of Water Neutral Pools be Recognised?
SPASA members are able to install a Water Neutral Pool, as are registered building practitioners. However, only a SPASA member can provide a pool owner with a Water Neutral Pool compliance certificate and plaque.
SPASA members/pool owners will then need to advise SPASA that their pool has the required Water Neutral Pool features by providing site photos or receipts proving purchase. SPASA will then be able to confirm the pool owners have installed a Water Neutral Pool and will issue a certificate and display plaque for property owners to promote that their pool is water efficient.
By displaying the Water Neutral Plaque, a home-owner is showing that they are taking positive steps to reduce water usage and recycle water.
8. Will it cost more to have a Water Neutral Pool?
Making a pool water neutral represents only a small proportion of a pool's total investment
Water efficient features vary in price according to pool size. For a 40,000 litre Water Neutral pool costs average $3,800 (based on $1,500 for a 5,000 litre tank, $700 for an 8 x 4 metre pool blanket and $1,600 for a backwash minimisation system).
All costs associated with being certified water neutral are set-up costs and are necessary in order for pool owners to be certified as responsible water managers.
MPBAA encourages home owners to consider both the environmental cost of not making their pool a Water Neutral Pool as well as the future economic savings to be had by reducing the use of increasingly expensive water and pool chemicals.
9. Why is MPBAA promoting the Water Neutral Pool program?
MPBAA is keen to be a leader and promote good water management practices as well as to educate consumers on how they can own a pool as well as make real, positive contributions towards water efficiency.
SPASA is proud of its Water Neutral Pool program and is pleased to work with industry and consumers who are keen to play their part and promote sensible water use and water-wise behaviours.
Download MPBAA's A4 Water Neutral Pool Program poster HERE
Sign Up Now, use these downloads for your -
EXISTING POOL: For those with a compliant pool, download the Pool Owner Compliance Form complete it, attach evidence of compliance by attaching photos and/or receipts and mail to MPBAA .
NEW POOL: For those having a pool constructed now, have your SPASA pool builder return the completed SPASA Member Certification Form to MPBAA .
For more Information call MPBAA on 03 9501 2040
The Water Neutral Pool program has been methodically tested using Bureau of Meteorology data and independently reviewed by Rob Gell and the Access Environmental consultancy